DIY Halloween Decor on a Budget for the Kids and Family Party
A small budget should not be the reason that stops you to create the most amazing party décor or Halloween party at home. You do not need to break the bank or go to store ready décor, you can get creative and make your more amazing décor ever, playing around with the kids and picking stuff from your own house.
I picked every single Stephen King's Book from my mom's library and start my décor around those and some cute wooden cats she had in her living room. You can turn anything in a very valuable piece for the décor without spending a dime. I filled a whole plastic bean with orange, black, white and purple stuff for the décor and started from there.
3 tricks to create your own Halloween on a Budget décor
Do not worry you can create the most amazing Halloween décor without spending too much and also it will be so much finding treasures in your home to use in your spooky decor.
Original Halloween Spider Drawing by MariaPalito
1. Find Hiden Halloween Treasures:
Pick all the stuff you can find around your house or ask family members to bring stuff to add to the décor. You can add silly stuff, books, plants, toys, and kitchen stuff to your décor. Yes, you can add black plastic spiders from your kid's toy tray.
Here are some examples of what I found around my house for the décor:
Balloons
Wooden sticks
Stephen King's Books and Old Books
Candles
A moon
Straws
Cat related items
Black and white patterned items
2. Pick your Party Color Palette
Start with the traditional Halloween colors but be creative and turn your color palette into your own. You are the creative soul and you are the party owner, so choose the palette and stick with it. Here you can see 4 color palette variations for your party. You can also make it your own.
3. Pick a Theme route & select two or 3 center elements.
You can pick a route for your design or just make it eclectic, no matter what you choose, just choose a theme. If you pick too many things it may not look as cool as you want it to be. Create your own Party themes like cute ghosts and bats or the scary movie theme or just a cute version of the little monsters.
4. Use Printables & get scissors and Glue
There is nothing more DIY and budget-friendly than Printable, you can find many budget-friendly printable files to enhance your décor in a very cute or scary way. You will need just some cardstock or photo paper and hot glue and ribbon to make them work like a charm for you.
a. Little Monster Bag Toppers
b. Scarry Halloween Toppers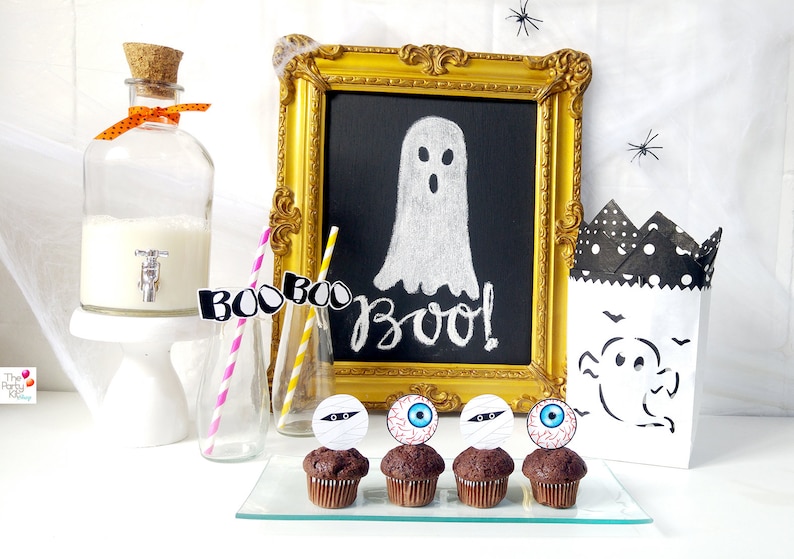 c. Little Witch Halloween Favor Tags
d. Halloween Boo Favor Tags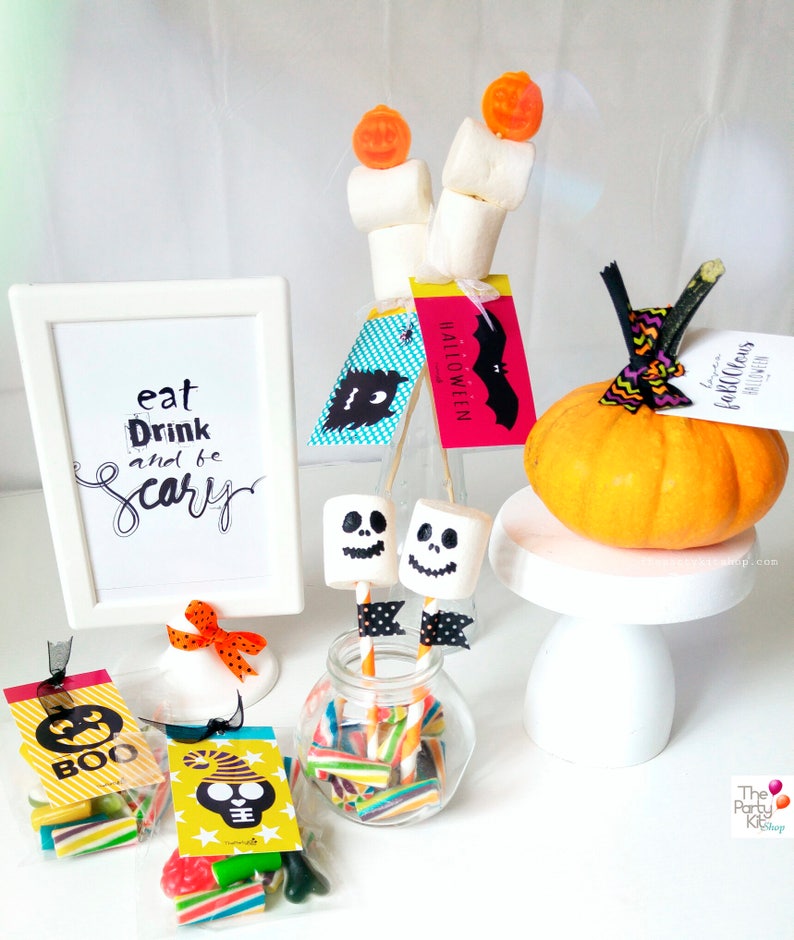 e. Happy Halloween Gift Tag or Label
5. Use some Freebies
There are many options of free friendly Kids stuff online that you can use for your décor to stay on a budget. A couple of months ago I made a new friend online and we decided to create something fun together for Halloween. Mariel from ThePartyKitShop is on the other side of the globe and thanks to technology we could cooperate to create these amazing freebies for you today. She lives in Spain and she is very talented. Check her Etsy Shop Here and her Instagram here.
For the freebies, you can print as many as you need as long as is for personal use. Be a star! If you take pictures of these cute ones in your décor please share them so we can share them on our social media.
a. Free Spider and Bat Halloween Water Bottle Labels
HOW TO USE
Download the files from the Freebie Party Vault
Print using letter size sticker paper
Cut using small scissors
Stick on your planner
b. Free Cute Spider and Bat Halloween Coloring Page
HOW TO USE
Download the files from the Freebie Party Vault
Print using letter size sticker paper
Cut using small scissors
Stick on your planner