How to Host a Christmas Cookie Decorating Party for kids
It's time for a Christmas cookie decorating party for the kids. I know we all love the sweet smell of freshly baked cookies at Christmas. Here I bring you some nice ideas so that this Christmas you can make your own cookie decorating party with the little ones.
This is a collaboration with Lori from Giggleliving.com Here we share some inspiration for hosting a Christmas cookie decorating party with the kiddos in mind! It's easy to set up a magical zone for letting cookie creativity fly!
A GREAT HOLIDAY PARTY FOR THE KIDS
Sometimes we need creative ideas to create unforgettable moments with the little ones. This is a great idea to share with the kids and also teach them some of our Christmas traditions.
It is also a cozy and sweet idea that can include people of all ages. Everything can start from baking cookies as a family to decorating and sharing them at home.
CREATE A CHRISTMAS COOKIE DECORATING PARTY ZONE TABLE
You can make this activity something special for the little ones and the family. You can bake your own cookies, but you can always get some pre-made from the store or order from a bakery.
For this activity you will need:
A table for the kids to sit and decorate the cookies.
You can cover the table with wrapping paper…it looks cute and makes cleanup so easy!
Sugar Cookies
Icing
Sprinkles
Colored Sugar
Wooden ice cream spoons for the little hands

Squeeze Bottles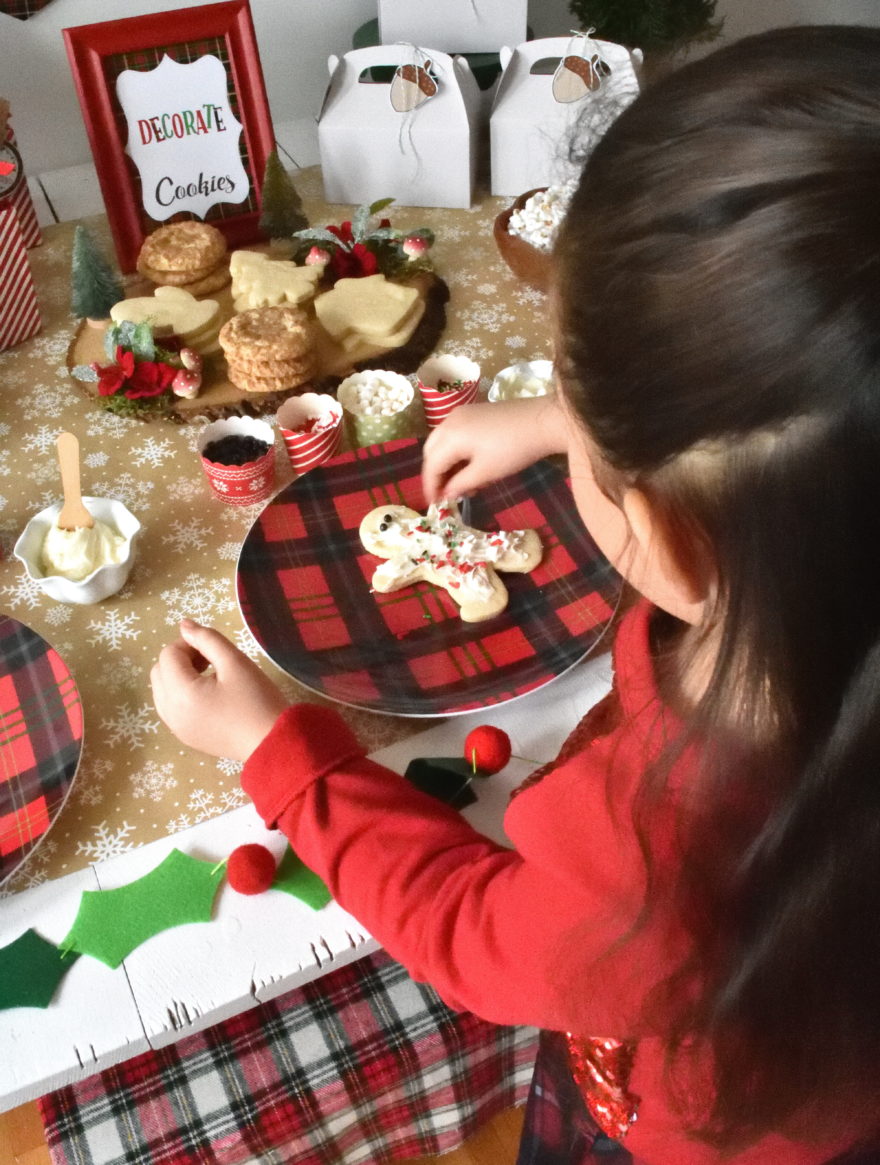 HOW TO DECOR YOUR CHRISTMAS COOKIE PARTY WITH PRINTABLES
To decorate your party it is not necessary that you spend a lot of money in a decoration store. You can create your own table decor using your home printer or by printing at a local print shop.
Create an amazing Cookie decorating zone party using this printable Table Decor. Print this banner and get some cookies and you can have an amazing activity for the kids. This printable file is formatted for easy printing using Letter paper size. It is a very easy craft for your Christmas table. You will get 2 flags per page. Print this banner using white cardstock and use ribbon or cord to tie the flags.
This printable party includes:
Printable banner 4.5 x 6.5 inches Flags.
5×7 Printable Signs
Merry Christmas Tags
Acorn Shape Tags